Willow Street Optics and Dr. Wendell Stoelting, P.C. are an experienced team of professionals with the goal of serving you and your family with the finest eye care and eyewear products.
Dr. Stoelting specializes in detailed eye exams, in-depth diabetic eye care, foreign body removal (e.g. removal of steel), and care and treatment for eye diseases such as glaucoma, macular degeneration, and diabetic retinopathy.
Dr. Stoelting offers exceptional eye care. He is knowledgeable in diagnosing eye diseases and emergency eye care such as retina detachments and foreign body removal. If you have an eye emergency, our office is able to help you anytime. (If you have an emergency after business hours, call 712-225-3693 anytime to learn how to receive help.)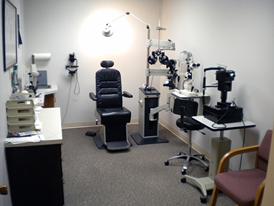 You will experience a detailed eye exam in one of our exam rooms.
Willow Street Optics provides a large selection of contact lenses and eyewear complete with expert, personalized care. With competitive prices and quality care, Willow Street Optics and Dr. Wendell Stoelting, P.C. are here to meet your needs. Come see why we're the best choice for your eye care and eyewear.