Dr. Wendell Stoelting is an experienced doctor of optometry. He provides you and your family with comprehensive, detailed eye exams which include: children's eye care, evaluation and post-operative treatment of glaucoma, detailed care for diabetics, and careful cataract evaluation and post-operative care, contact lenses check-ups, and much more.
Experienced in providing in-depth diabetic eye care, foreign body removal, care and treatment for eye diseases such as glaucoma, macular degeneration, and diabetic retinopathy, Dr. Stoelting strives to help every patient have the best eye health possible. He often attends optometric meetings across the country to stay informed about the latest treatment options.
As an optometrist certified to diagnose and therapeutically treat eye infections, eye diseases, and eye injuries, Dr. Stoelting has an impressive knowledge of the latest treatments. He is knowledgeable is diagnosing eye diseases and eye emergency care such as macular edema, retina detachments, eye infections, chronic dry eye, and foreign body removal which is achieved with the finest of skill and instrumentation.
Emergency eye care is available anytime. (If you have an emergency after business hours, call 712-225-3693 anytime to learn how to receive help.)
Dr. Stoelting cares about your vision now and your vision for the future. Through unwavering dedication, conscientiousness, and close attention, Dr. Stoelting serves you.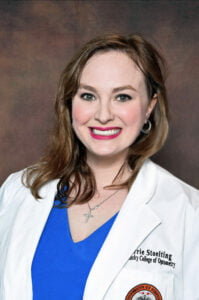 Dr. Carrie Stoelting is excited to return to her hometown to join her dad in practice. As a primary eyecare provider, she brings clinical experience and the latest methods of eyecare.
"I was blessed to be trained by some of the best doctors in our country. I chose to come back to my hometown because my heart is here," Dr. Carrie shared.
Dr. Carrie is well acquainted with the top regional eye surgeons. She completed her clinical rotations with Wolfe Eye Clinic, Vance Thompson Vision, and Ophthalmology Ltd.
Dr.  Carrie also brings the latest techniques in pediatric exams. Children need eyecare early in life, and it is now recommended that children have eye exams at ages 1, 3, and 6 years of age. Dr. Carrie says, "Often children do not show signs of vision loss. They are so good and hiding it. But a thorough eye exam can unearth vision or ocular abnormalities. If an issue is caught early, oftentimes we can make a big difference."
Dr. Carrie has been mentored by her dad, Dr. Wendell Stoelting, and shares his love of caring for people and providing quality eyecare. She shares, "My father and I share the same heart for people and eyes. We treat your eyes as though they are our own. Ever since I was a child, I wanted to become an optometrist just like my dad to serve my community. I am thankful to join my dad to provide the best eyecare possible."
Dr. Carrie achieved advanced training as an ocular physician. She is experienced in diagnosing and managing eye diseases such as glaucoma, dry eye, macula degeneration, cornea abnormalities, and diabetic retinopathy. Dr. Carrie especially has a passion for treating dry eye. In fact, she is bringing a dry eye clinic to the community. In addition, Dr. Carrie has advanced training in ocular disease and emergency eyecare.
Dr. Carrie graduated from the Kentucky College of Optometry where she received laser and surgical training. She is a member of the Society for Collegiate Leadership & Achievement and the Iowa Optometric Association.
Learn why Dr. Stoelting and Dr. Carrie are regarded by their patients and colleagues as the best. Patients appreciate their kind, gentle manner and the fact that they makes them feel comfortable and at ease. Make an appointment today.